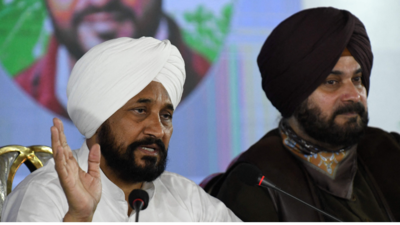 CHANDIGARH: As Congress struggles to keep its flock together and PCC chief Navjot Singh Sidhu pushes for the announcement of a name for the party's candidate for Punjab CM, election campaign committee chief Sunil Jakhar has made it clear that the party high command would not announce its CM candidate before the polls.
Jakhar said the high command's declaration of Captain Amarinder Singh as its CM candidate in the run-up to the 2017 polls was an exception. "This time, the high command has decided that the Punjab polls will be fought under its collective leadership, whether someone likes it or not," Jakhar said, adding that only elected legislators would choose their leader.
After the Congress screening committee meeting in Delhi on Wednesday, Jakhar said the final list of candidates would be released by the central election committee headed by AICC president Sonia Gandhi.
Despite Jakhar's assertion, Sidhu reiterated on Wednesday that the people of Punjab wanted to know "who will take them out of the kichar (mud) and how? People also want to know about the roadmap," he told a TV channel. He said that during the 2017 polls he himself used to ask Aam Aadmi Party "where the groom of their marriage procession was? So naturally the people will ask me the same question this time".
At the same time, Punjab CM Charanjit Singh Channi urged people indirectly at a public gathering in Patiala district to give him a chance to become CM again. "AAP has said that you have seen Akalis and Congress, so give us a chance. I say that you have seen Captain (Amarinder Singh) and (Parkash Singh) Badal also. If you are satisfied with my work in these two months, give me a chance again," Channi said.
FacebookTwitterLinkedinEMail