Itni achi cheez Bhagwan ke liye chod doon! ('Aradhana')…

Main jo aag lagata hoon use boojhana bhi jaanta hoon ('Kati Patang')…
Main wo bala hoon jo sheeshe se patthar ko todta hoon ('Souten')…
Nangaa nahaayega kya aur nichodega kya ('Dulhe Raja')…

Mera naam hai Prem… Prem Chopra ('Bobby')…


Truly, Prem Chopra needs no introduction. While the meaning of his name is love, he spewed hate on-screen and invited it off-screen as well. That he made husbands nervous and wives run for cover is just an extended compliment to his craft. As an actor, that only validated his authenticity.
Adaptable and amiable, he forged a profitable team with superstars Manoj Kumar, Dev Anand, Dilip Kumar, Rajesh Khanna and Amitabh Bachchan… playing the nemesis in blockbuster after blockbuster between the '60s-'80s. Moving beyond, he reinvented himself handpicking character roles and rejoicing the good reviews.
From an employee in the Times Of India's circulation department to his interviews gracing the pages, Prem Chopra is nothing short of a bestseller. An exclusive interview with the bad boy of Bollywood who enjoys ageless popularity…
From your hometown Shimla to show-town in Mumbai… how did your journey towards Hindi films begin?

I was studying at B.M. College in Shimla. My father wanted me to become an IAS officer or a doctor. But there I developed a taste for stage and participated in dramas. It gave me the impetus to try my luck in the film industry. Dad said, 'I won't stop you. But you will have to fend for yourself. I won't be able to send you money'. I came to Mumbai in the early 1960s. Initially, I did some odd jobs and then landed a job at the circulation department of the Times Of India. I worked there for around three to four years. I was drawing a good salary at the TOI. Meanwhile, I kept trying to get a break in films. Initially, I faced rejection. Producers those days had offices in Mahalaxmi and around Naaz theatre. I'd visit them. But they had no time to meet me. I was asked to leave my photos and contact number behind. But they never got back.
During those struggling days, did you ever reach a point when you thought about quitting?

One particular incident happened during the initial days when I was playing a hero in Punjabi films. A sizeable portion of the film 'Sapni' (1963) had already been shot. We had to shoot some scenes at the Mahalaxmi Studio. I had to pull a snake out from the pitara (basket) and say, 'Puttar le apna badla!' But being petrified of snakes, it made me nervous. I turned cold with fear. I chanted mantras and tried to do the shot. But the moment the snake peeped out; I'd withdraw my hand.
After a few retakes, the director lost his temper. He said, 'Don't get scared! The snake's poison has been removed'. But touching the snake gave me an eerie feeling. I removed my pagdi and walked away. The producer ran after me with the director following him. They couldn't afford to replace me. Honestly, I thought of leaving the industry that day. Finally, the scene was shot with a plastic snake. The film was a hit. Years later, I had to shoot with a snake in Dilip Kumar's 'Bairaag'. Dilip saab was aware of my phobia. He wisely suggested I use a danda (stick) to pick up the snake in the scene.
How did you manage to land your first break in Hindi films?

I debuted with the Bharat Bhushan-starrer 'Mud Mud Ke Na Dekh' in 1960. The same year I did the Punjabi film 'Chaudhary Karnail Singh', a love story, which won the National Award. I did a few films as a hero including 'Main Shaadi Karne Chala', 'Kunwari', 'Sikandar E Azam'… But even then, I had no guts to leave TOI.
The turning point was playing the villain in Raj Khosla's 'Woh Kaun Thi?' (1964) and Sukhdev, a grey character in Manoj Kumar's 'Shaheed' (1965). After Nasir Hussain's 'Teesri Manzil', Raj Khosla's 'Mera Saaya' (both in 1966) and most importantly Manoj Kumar's 'Upkaar' (1967) there was no looking back. I began doing double shifts. That was the first time I felt I could settle in Mumbai. Initially, I was staying in a guest house sharing the room with four people. Then I shifted to a single room.
In the past, you've been quite vocal about the support and contribution that Manoj Kumar lent to the early days of your career.
Manoj Kumar was an intelligent guy. He was a total cinema man. He wrote his own scripts, directed his own films, financed them and even played the lead. I went on to work in films directed by him – 'Yaadgaar', 'Purab Aur Paschim' and 'Kranti' as well as director Sohanlal Kanwar's 'Sanyasi' and 'Be-Imaan' (between the '60s –'80s). In the latter films, his contribution was immense.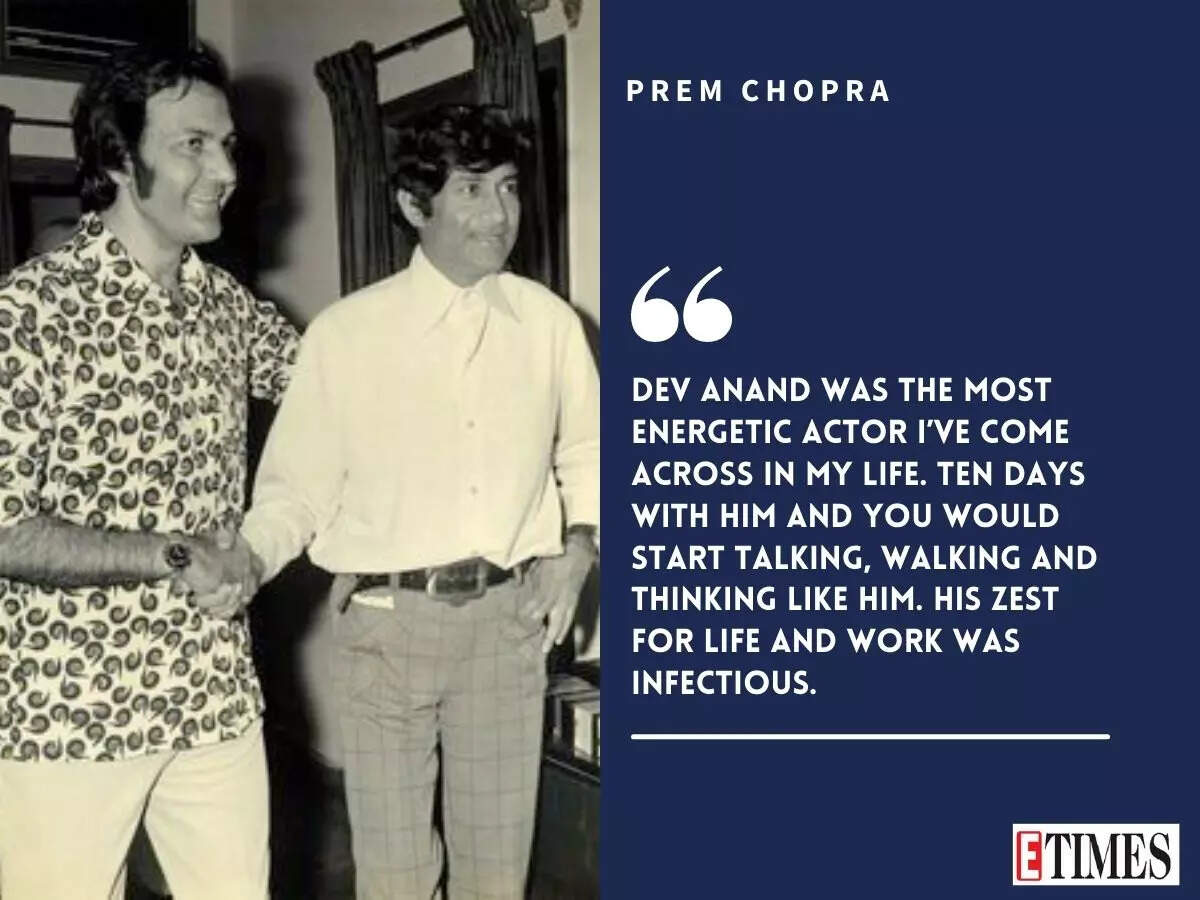 What did your association with Dev Anand teach you?

When I was studying in Shimla, a Dev Anand release meant that all girls would be bunking class that day. Girls were absolutely crazy about him. 'Hare Rama Hare Krishna' (1971) was my first film with him and a superhit one. Then on, he took a liking for me. I was nearly in all his films including 'Chhupa Rustam', 'Des Pardes' and 'Lootmaar'.
Dev Anand was the most energetic actor I've come across in my life. Ten days with him and you would start talking, walking and thinking like him. His zest for life and work was infectious. He didn't care whether his films worked or not. He made them with conviction. He'd say, 'If you didn't like it, you didn't like it man. It's okay'. He'd quickly begin another project.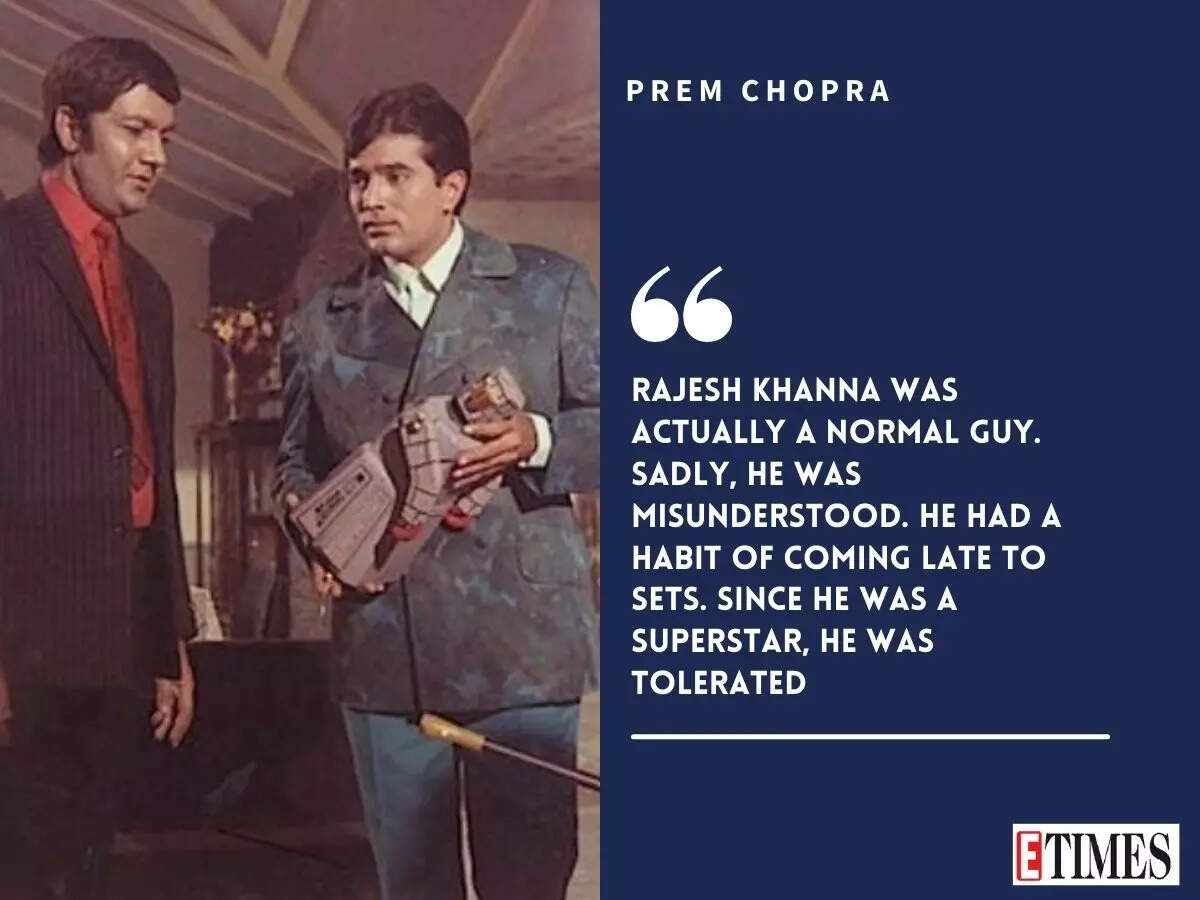 You are one of the few who witnessed Rajesh Khanna's superstardom and then his decline from close quarters.

Yes. Most of our films were hits beginning with 'Do Raaste' and 'Kati Patang' (both in 1969). Those days we were bachelors. We were friendly and shared many things. (Smiles) Though not all of that can be shared here. Rajesh Khanna was actually a normal guy. Sadly, he was misunderstood. He had a habit of coming late to sets. Since he was a superstar, he was tolerated. But the moment he came on set he gave it his all. Crowds would gather to watch him.
Films are a commercial business. When a film is a hit, the hero gets the maximum benefit. If it fails, the hero bears the maximum brunt. Rajesh's films became losing propositions, all in a streak. People started turning away from him. He slipped into depression. He could not digest failure. In showbiz things change. No one can remain a superstar forever. Like Amitabh Bachchan began doing character roles with grace. He accepted the change. But Rajesh lost interest. Unfortunately, he succumbed to cancer. Apparently, 'Time ho gaya hai. Pack up!' were the last words he uttered before going.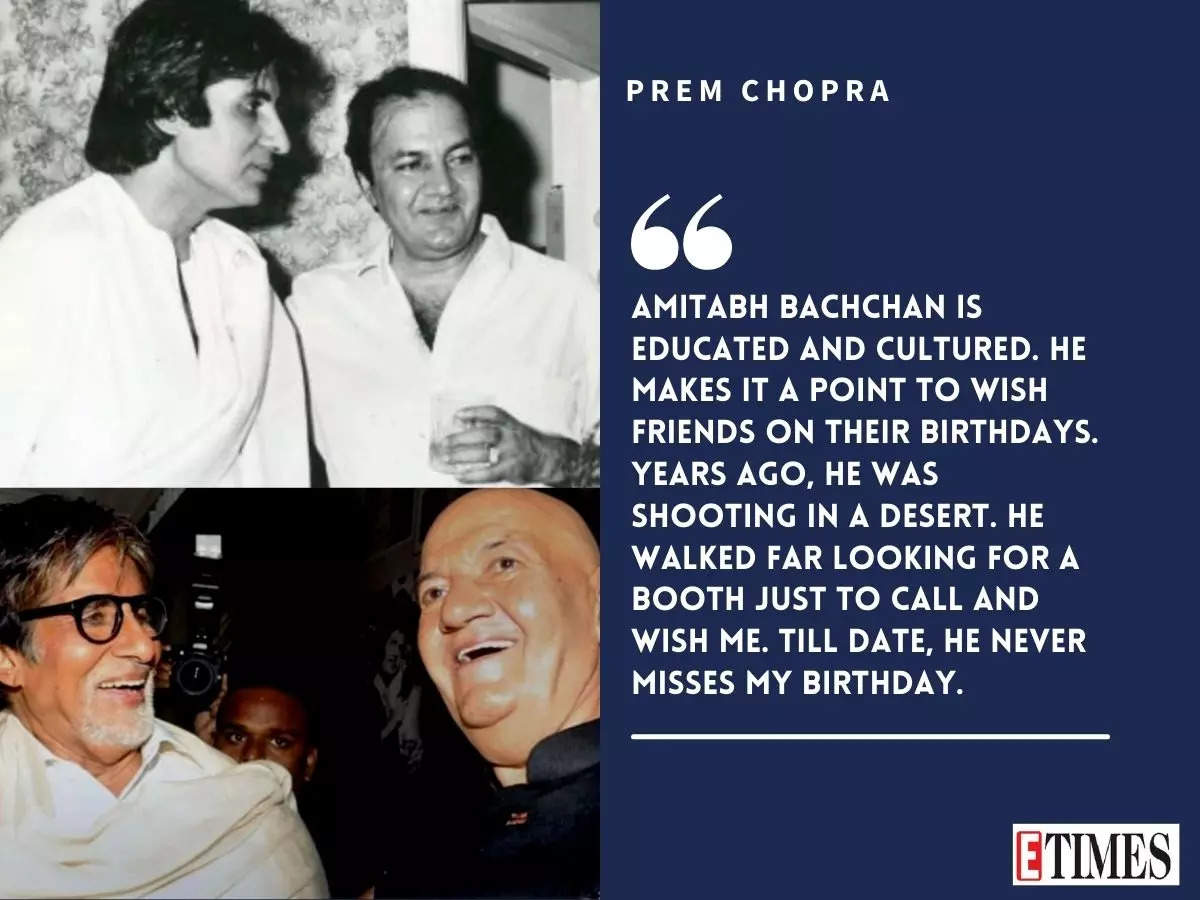 You've had great innings with Amitabh Bachchan as well. What are your thoughts, especially on the longevity of his career?
Amitabh always had immense potential and a unique personality, something I noticed during the preview of 'Parwana' (1971). He played the anti-hero in it. I couldn't help remarking that this actor would spell trouble for others. Though his initial films didn't fare well, Prakash Mehra's 'Zanjeer' (1973) did the trick for him. People loved to work with him for two reasons. One he was disciplined and punctual. For a 9 am shoot, he'd reach the set at 8.45 am. Secondly, he delivered the goods marvellously. Till today he's considered a superstar. As a person, he's educated and cultured. He makes it a point to wish friends on their birthdays. Years ago, he was shooting in a desert. He walked far looking for a booth just to call and wish me. Till date, he never misses my birthday.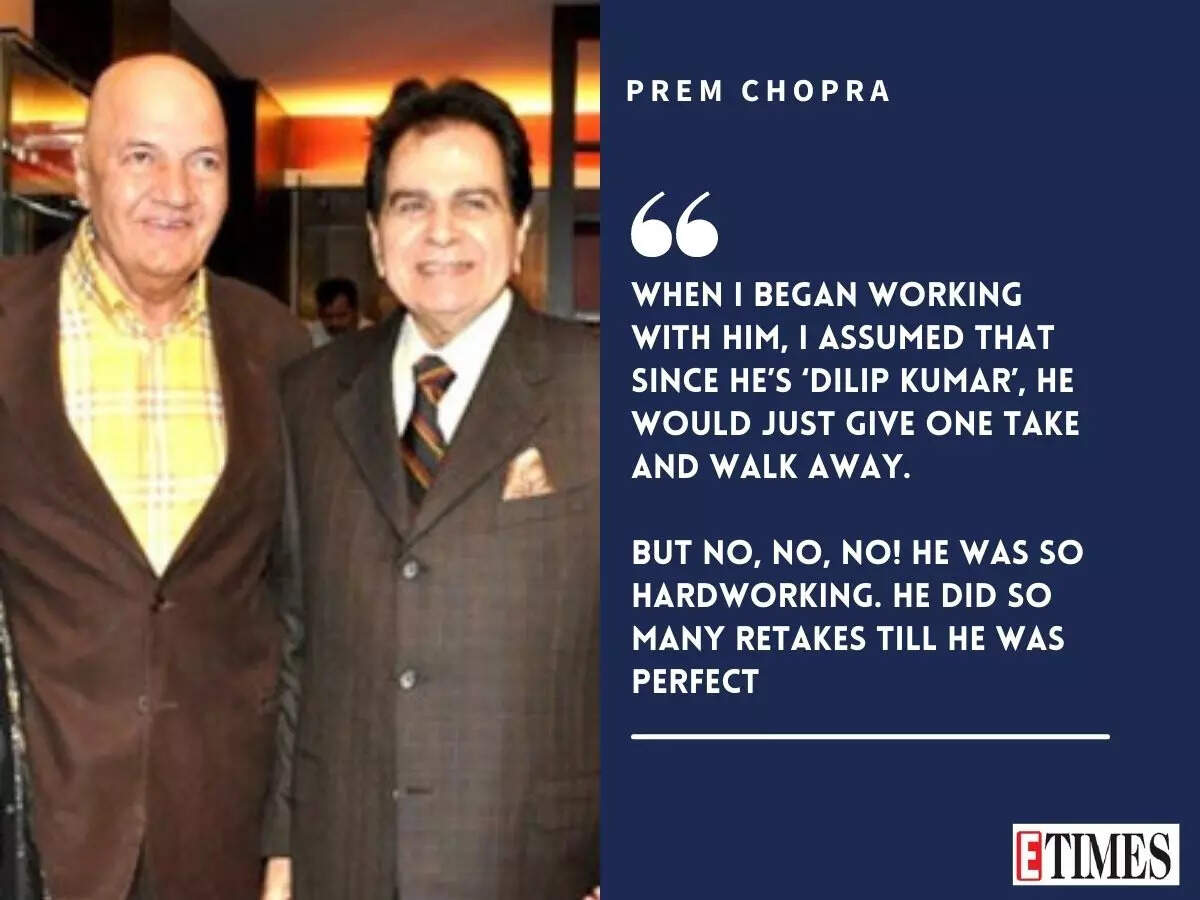 What memories do you have of Dilip Kumar? You worked with him on multiple occasions, too.

I first had the opportunity to work with Dilip saab in 'Dastaan' (1972). During the '80s, we did 'Bairaag', 'Kranti' and 'Duniya'. Dilip Kumar was the greatest actor India has ever produced. He introduced the 'underplay' style of acting, which many followed. He was a textbook for actors.
When I began working with him, I assumed that since he's 'Dilip Kumar', he would just give one take and walk away. But no, no, no! He was so hardworking. He did so many retakes till he was perfect. I was astonished. That inspired me and taught me that you have to be honest to your job and hardworking to attain success.
Dilip saab was well-read and refined. It was great to be in his company. He enjoyed sher-o-shayari. He spoke chaste Urdu and I spoke Urdu with him, too. In the beginning, I'd goof up and we'd have a good laugh over it.
You've had a long career, spanning many decades. Did you ever face any professional rivalry? Did other actors who also played antagonists compete with each other?

I didn't believe in politics. It was just about doing my job and getting out. People who indulge in gossip and politics get caught in that.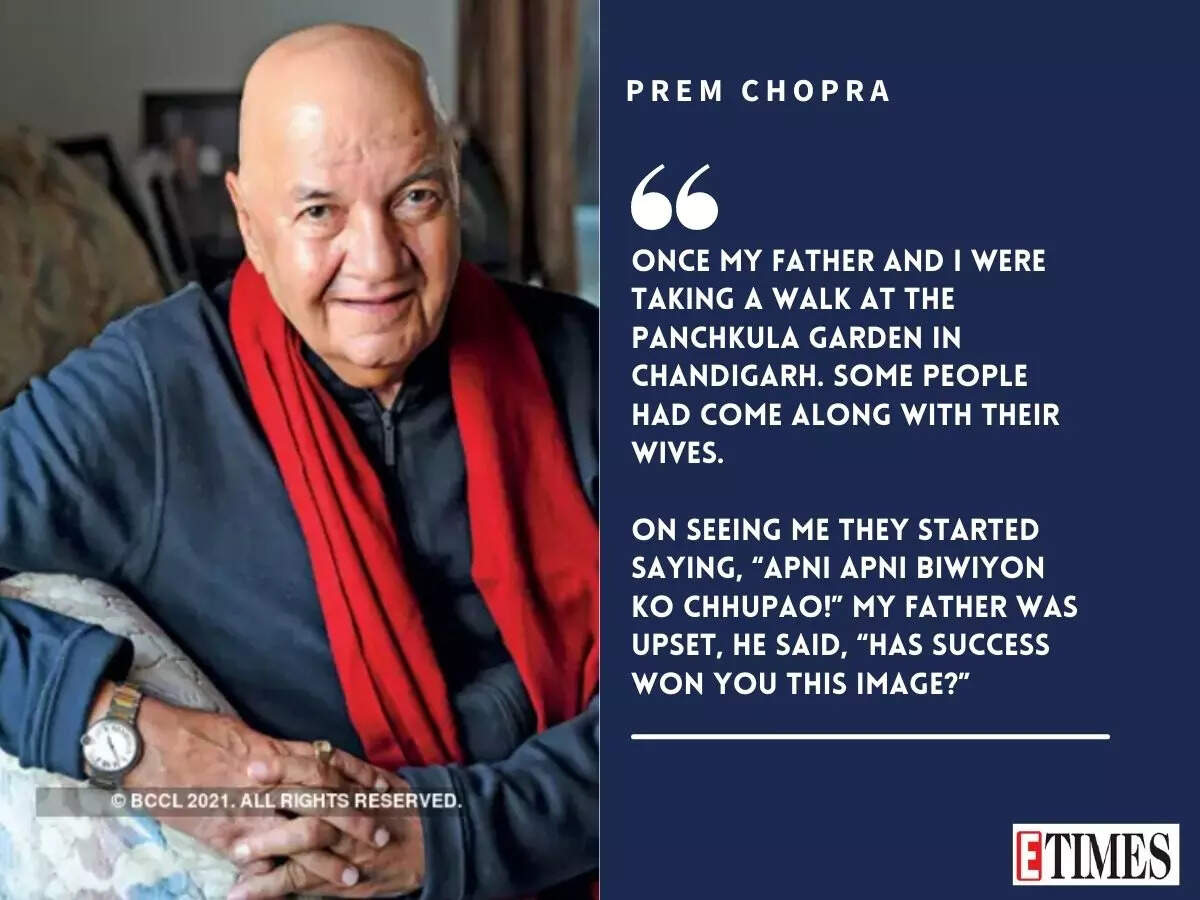 How did your 'negative' screen image affect your real life?

Some people, taking my screen image seriously, would get scared of me. Once my father and I were taking a walk at the Panchkula Garden in Chandigarh. Some people had come along with their wives. On seeing me they started saying, "Apni apni biwiyon ko chhupao!" My father was upset with the reaction. He said, "Has success won you this image?" To make a point, I went across and spoke nicely to the husbands. They were pleasantly surprised to find me so normal. I told them that what I do is my job, not my life.
Was it difficult for a gentle person like you to enact scenes full of lechery and molestation on screen?

I was a devil while doing my job in front of the camera. Some heroines would get conscious and feel coy. (Smiles) Perhaps, they were not good actresses. The good artistes were co-operative and we would get done with the scene. My wife Uma understood that it's all part of my profession. She belongs to a film family herself being the younger sister of Krishnaji Raj Kapoor.
Having worked for six decades in various film industries, what's been your biggest learning?

You tend to get typecast in the industry. But now things have changed. Gradually, I began doing character roles. I attempted comedy in 'Agent Vinod' and 'Golmaal 3'. 'Koi… Mil Gaya', 'Bunty Aur Babli' and 'Money Hai Toh Honey Hai' had me play interesting characters. In 'Rocket Singh – Salesman Of The Year', I played Ranbir Kapoor's grandfather, a role which won me good reviews. An actor has to adapt to the times.