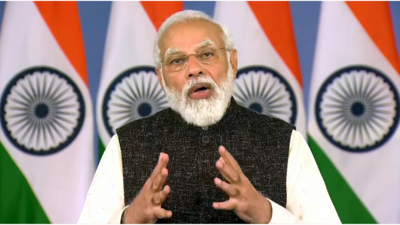 NEW DELHI: PM Narendra Modi's decision to address the nation on Saturday night at a short notice was driven by the need to effectively communicate the decisions to initiate booster doses and vaccination for children without any unnecessary speculation.
Rather than leaving the matter to officials and press releases, PM Modi explained the categories eligible for the "precaution dose" (as he chose to call the booster shots) and also placed the decisions in the context of the current Covid situation in the country.
Sources said the reference to "precaution" doses needs to be seen in the context of studies and surveys revealing a high degree of "hybrid immunity" in the country which stems from being vaccinated and also contracting the disease at some point. The infection in such cases may often be asymptomatic as suggested by sero surveys showing antibodies even in children who did not receive vaccines. So, boosters could be better viewed as "precaution" doses for those in a certain age category or in "at risk" jobs.
The government has been cautious about initiating vaccination for children despite encouraging results of Covaxin and Zydus shots, the view being that even a few stray adverse reports could prove a serious setback. Also, government experts noted the minimal infections among children and prevalence of antibodies.
The advent of the more transmissible Omicron variant and concerns over immunity levels in the elderly who recieved the vaccines in early 2021 and health and frontline workers led to a thorough review of data and the decisions announced by the PM.
Additionally, it was also necessary, said sources, to ensure adequate vaccine availability for the large number of people who will be eligible for the booster shots and the first doses for children. The current goal of the government — to step up full vaccination for adults — remains relevant as this is the basic protection against severe disease and death. Taking this to at least 85% from the current 61% is top priority.
Overall, the PM's address was seen to reflect the need for caution and at the same evince confidence that the nation was prepared to face rising Omicron infections. The feedback from business and industry, said sources, reflected a preparedness to take the developing situation in stride rather than anticipate big dislocations.
FacebookTwitterLinkedinEMail