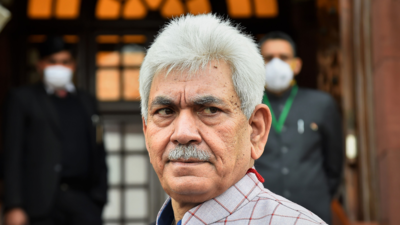 JAMMU: Jammu and Kashmir lieutenant-governor Manoj Sinha on Monday said there is no need to set up any panel to review the Armed Forces (Special Powers) Act (AFSPA) in the Union Territory. He also rebutted allegations that outsiders were being allowed to buy land in large numbers.
Responding to a question after inaugurating the first-ever Real Estate Summit in Jammu on whether he feels the need to set up a panel to review or repeal the AFSPA as is being done in Nagaland, Sinha said: "I am well-versed with the situation and there is no need for it… You need not worry about it."
The Centre on Sunday constituted a high-level committee, headed by a secretary-rank officer, to examine the possibility of lifting the controversial AFSPA in Nagaland, which seems as a move to soothe tensions in the northeastern state following the killing of 14 civilians.
In response to another question about some leaders raising concerns about the government allowing people from other states to buy land and allow more private investment in the UT, he said: "I reject this outrightly. I will not react to statements of leaders… There is an attempt to mislead and incite people by certain sections. There will be no change in demography."
Rejecting the apprehensions of 'no job' to locals, he cited examples of how a large number of local people got work in hydropower, tunnel and highways projects in J&K.
Taking on opponents and critics, Sinha said that there are "certain people" who don't want common people in the UT to get benefits that others in the rest of India avail.
FacebookTwitterLinkedinEMail