NEW DELHI: Less than one in five doctors doing post-graduation in orthopaedics passed the final theory exam conducted by the
National Board of Examination
(NBE). In ENT, almost two-thirds failed the exam. Similarly, just over 36% passed the exam in paediatrics. The results announced by the
NBE
on November 24 were a shock to many doctors doing diplomate of national board (DNB).
DNB is a post-graduate course considered equivalent to MD/MS, but is conducted in private hospitals and institutions and administered by NBE.
Doctors had been assured that the hardship and disruption in studies due to
Covid
would be taken into consideration when conducting the exams and in marking them. However, students claimed that the pass percentages show that along with an unreasonably difficult paper, the evaluation must have been extremely harsh.
Senior officials in NBE blamed the poor results on poor preparation by doctors during Covid. Those specialising in orthopaedics pointed out that if Covid was the reason, the results ought to have been uniformly poor across all specialties. However, among specialities in which over 50 students appeared, the pass percentage was almost 90% in obstetrics and gynaecology, and in dermatology and well over 60% in several others including general surgery, ophthalmology, radio diagnosis and psychiatry.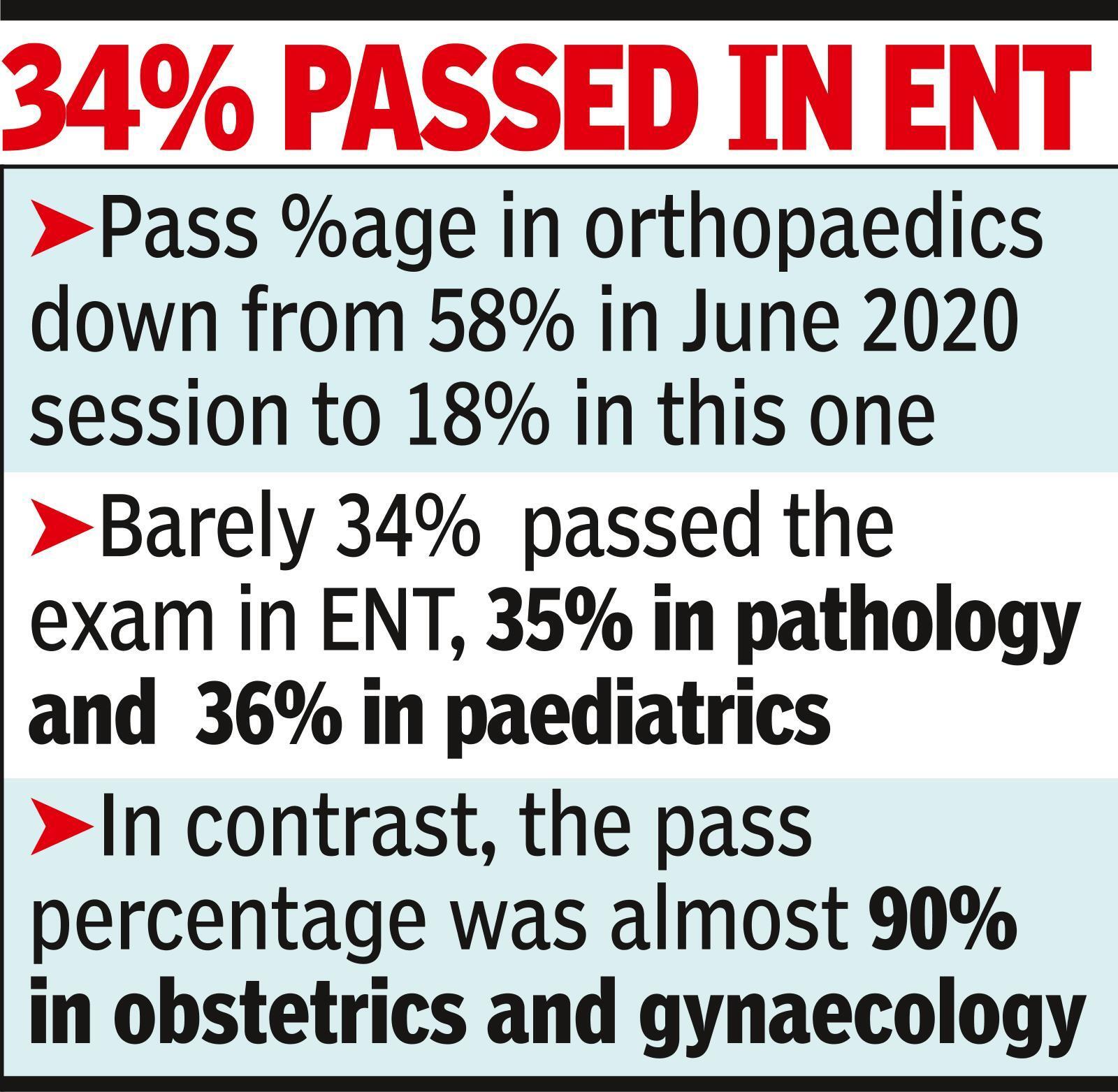 "DNB orthopaedics is quite high up in preference and so only people with a decent rank in the NEET PG exam get the specialty. Hence, it can't be that more than 80% of doctors specialising in orthopaedics are poor students. If the poor result is attributed to substandard training at the institute, NBE is to be held responsible for giving accreditation to poor quality institutions. However, this cannot be true because some of the institutes which have seen zero candidates passing are among the best," said a resident doctor in orthopaedics.
According to data that NBE shared with TOI, the pass percentage of DNB pediatrics has been consistently low over the last three exams, the highest being 43.4% in the June 2020 session.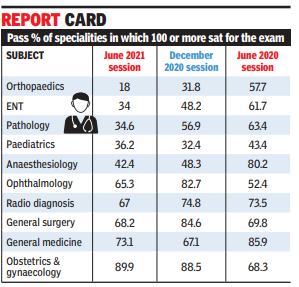 The president of the Association of National Board Accredited Institutions (ANBAI) and the head of the department of orthopaedics and spine surgery in Ganga Hospital, Dr S Rajasekaran, said that ANBAI has written to the NBE to consider reevaluation before publication of results if there is an abnormally low pass percentage in any specialty. "We have also made a strong plea that at least 50% of the examiners must be from NBE institutions," he added.
"Only those clearing the theory exam can appear for the practicals. So the final result of those who pass the practical exam could be even lower," said an orthopaedic resident who had failed and is appearing for the next DNB exam being held from December 16 to 19. Many resident doctors pointed out that there was not even a month between the results of the last exam being announced and the next one being held. "It ensures that students have no time to challenge the results as they would immediately get busy preparing for the next chance to clear the exam," said a resident doctor specialising in paediatrics.