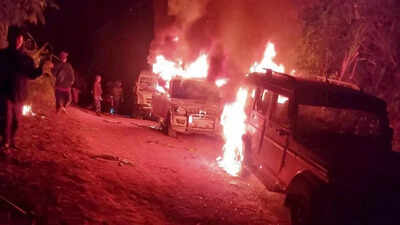 Angry villagers burnt vehicles of security personnel after 13 civilians were killed in an anti-insurgency operation at Oting village. (PTI File Photo)
GUWAHATI: Indian Army's enquiry team headed by an officer of the rank of major general on Wednesday winded up its visit to ground zero at Oting village in Nagaland's Mon district to probe the killing of 13 villagers in a botched CI operations carried out by 21st Para (SF) on December 4.
The probe team recorded statements of only two witnesses, one of them is the BJP's Mon district president Nyawang Konyak and the other is village guard leader Lelwang.
"I have told them (the army team) everything that happened on December 4. I have asked them take back statement (made by Amit Shah in Parliament) that the army personnel had fired only when the vehicle in which the villagers were travelling did not stop after being signaled," Konyak said.
The BJP leader, in fact, was also fired at by the para commandos.
Konyak was among the first to rush to the site when he heard that six people from his village had been killed in the firing.
"I also heard that villagers had also attacked the army commandos in retaliation and I rushed to make peace. But on seeing me, commandos fired at us even when the BJP flag was on my car was very much visible. My driver was hit. Today I have shown the army team my vehicle with the bullet marks on it," Konyak said.
Konyak said that the probe team of 20 arm men was accompanied by Nagaland police officials.
The Konyak Civil Society Organizations on Tuesday had issued a statement asking the army probe team not to come in uniform and not carry any weapons.
FacebookTwitterLinkedinEMail