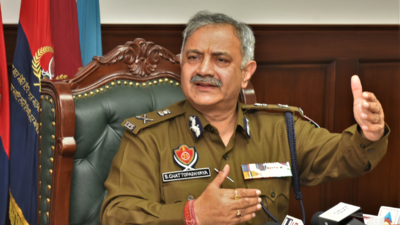 Punjab DGP Sidharth Chattopadhyaya in the press meet at Punjab Police headquarters in Chandigarh
Khalistani elements based in Pakistan may have radicalised dismissed Punjab police head constable Gagandeep Singh, the lone casualty and suspected perpetrator of Thursday's Ludhiana court complex blast, when he was in prison for heroin possession for two years, DGP Siddharth Chattopadhyaya said on Saturday.
Two prisoners linked with a Pakistani narco-terror cell were brought out of jail and remanded in police custody for seven days.
The two prisoners are Singh Cheeta and Sukhwinder Singh, alias Boxer Baba.
A woman cop once attached to the Khanna SP's office and suspected to have been Gagandeep's girlfriend was detained. Gagandeep used to work in the same office from 2015 to 2017.
"The preliminary investigation suggests Gagandeep Singh was used to target the court premises with the intention of disturbing peace in the state," the DGP said. "The police are investigating the case from all angles."
The Ludhiana unit of the Special Task Force (STF) had arrested Gagandeep in August 2019 and also charged him with possession of 385gm of heroin. The case against him was registered in Mohali. He got bail last September and was due to appear in the court of the additional sessions judge on Friday.
The high-intensity explosion that killed Gagandeep and injured six people, including a lawyer and three women, occurred inside a public toilet in building No 1 of the court complex. The building, usually teeming with people, was less crowded on Thursday afternoon because of a lawyers' strike.
The DGP said the suspect wanted to create fear and panic on the court premises before the scheduled hearing of his ongoing case. The explosives he was possibly carrying have yet to be ascertained. "Samples have been sent to the forensic lab. An NSG team and forensic experts have inspected the site."
The forensic team collected, among other things, a damaged mobile handset and burnt clothes on the body of the deceased.
Chattopadhyaya lauded the police force for "cracking the case within 24 hours after zeroing in on the identity of the deceased as Gagandeep Singh of Khanna". He also added that the police were able to identify the deceased from a tattoo on his right arm.
FacebookTwitterLinkedinEMail