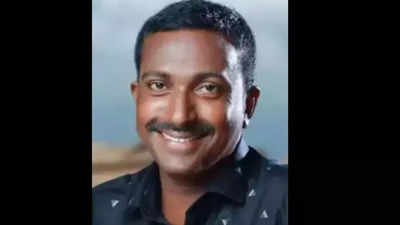 Social Democratic Party of India leaders, who worked closely with the slain leader (in pic) for years, said KS Shan was a popular figure among the public and was actively involved in charity work, including relief work, during floods.
KOTTAYAM: Police on Monday arrested two people in connection with the murder of the Social Democratic Party of India (SDPI) state secretary K S Shan.
Shan was hacked to death at Alappuzha on Saturday night.
The accused have been identified as Kochukuttan and Prasad, both natives of Mannanchery in the district.
"Both were involved in the conspiracy that led to the murder," said police.
"Prasad arranged a vehicle for the gang that was used in the killing of Shan. The gang included around 10 people. The five people who were directly involved with the murder has gone into hiding," said V Jayadev, Alappuzha superintendent of police.
K S Shan (38) was knocked down from his bike by a car in Mannanchery at around 7.30pm on Saturday after which a four-member gang repeatedly stabbed him.
He was rushed to a hospital where he succumbed to his injuries around midnight.
FacebookTwitterLinkedinEMail