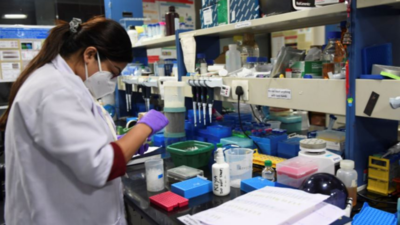 (Representative image)
PUNE: Scientists at the Pune-based Indian Council of Medical Research-National Institute of Virology (ICMR-NIV) have successfully isolated the Omicron strain of the novel coronavirus at the high-end bio-safety laboratory in Pashan. The step is critical in assessing the efficacy of vaccine as well as natural infection-induced antibodies in thwarting severe disease.
"The Omicron variant of the virus, with all its signature changes (mutations), has been isolated. This is a milestone achievement that will further facilitate vaccine efficacy studies. In the next two weeks, we will be able to effectively gauge vaccine efficacy of Covishield and Covaxin against the new variant," an ICMR official told TOI on Wednesday.
The exercise will also find an answer to another critical question: Will the new variant outsmart existing antibodies in those who have had Covid from old strains? "Virus isolation is a significant achievement and the first step forward to know this. Now, we can take up a neutralization study to assess the efficacy of Covaxin and Covishield-induced antibodies and natural infection-induced antibodies against the Omicron lab-grown strain," the official said.
A neutralization study is the best way to assess vaccine efficacy and chances of reinfection. Through this, the scientists will also be in a position to compare the level of neutralizing ability of the vaccine-induced antibodies and natural infection-induced antibodies against the older strains (like delta) and the new Omicron variant. "And beyond cell culture experiments, the protective ability of vaccine-induced as well as natural infection-induced antibodies can also be studied now in animal models against Omicron," said another virologist.
Infection by any strain of SARS-CoV-2 kicks off an immune response against the entire virus, and not just against certain parts such as its 'spikes'. This is why many experts believe mutations are unlikely to significantly affect the protective shield.
There are 1,273 amino acids on the SARS-CoV-2's spike protein that triggers the immune response. The new Omicron variant has 32 amino acid changes or mutations in the S protein. So, the assumption that vaccines will offer some protection against the new strain sounds logical, experts have said.
FacebookTwitterLinkedinEMail