NEW DELHI: "Did you eat well?" That's definitely not what you expect to hear back after sharing your success story. But moms will be moms.
Kidambi Srikanth's parents don't watch his matches; they never have, not just now, even when their son was at the cusp of history: the first Indian man to enter the World Championships final, ending a step short of the title eventually to win a silver medal.
Maybe that's a parent thing, a superstition perhaps. Something that once worked for their children, parents tend to stick to that. It's just that — a parent thing.
In the Kidambi household, Srikanth's elder brother, Nandagopal, is the source of newsbreaks. While their father and mother stay away from TV sets, livestreams and mobile alerts, Nandagopal relays the news of Srikanth's success and setbacks. On occasion, their dad, KVS Krishna, will take a peep at the scores and then turn away.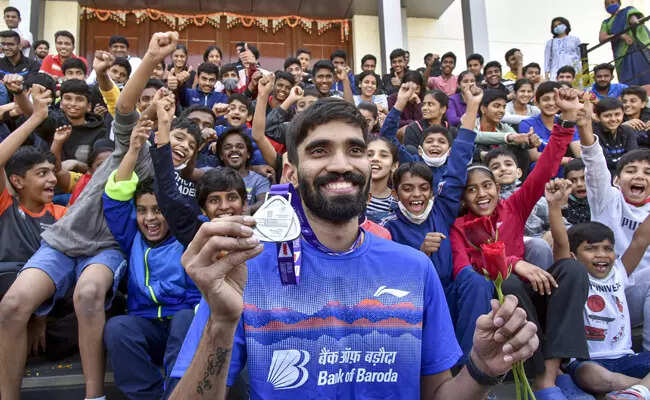 Srikanth poses for photographs with young badminton players. (PTI Photo)
"My mother doesn't watch any match, both my mom and dad, from the beginning, not just now. Either I will call after my match or my brother tells them the result. But in general, they don't watch," said Kidambi talking to TimesofIndia.com from his home.
"My father sometimes follows the scores but my mom is not so tech-friendly, and she also doesn't watch matches."
Srikanth's charge at the World Championships in Huelva, Spain, was halted by the unseeded Loh Kean Yew. The Singapore shuttler won the summit clash 21-15, 22-20.
Congratulations Kidambi Srikanth on becoming the first Indian to win a silver medal in men's singles at BWF World B… https://t.co/DPLLNrvB6k

— President of India (@rashtrapatibhvn) 1639988516000
Srikanth wasn't on the right side of the result, but it made him only the fourth Indian man to medal at the World Championships. After bronze medals won by Prakash Padukone in 1983, HS Prannoy in 2019 and now Lakshya Sen in 2021, Srikanth's silver is the best result for Indian men's badminton at the top-flight tournament. It was Sen who Srikanth beat in the semifinals in Huelva, Spain.
The 28-year-old Srikanth called home soon after the game.
"It (the conversation) was basically about congratulating me and then a typical Indian mom kind of questions," he said about the brief talk with his mother, Radha. A smile followed, and he continued: "She asked me if I ate well, if I am feeling well and if I am okay," Kidambi further shared with TimesofIndia.com.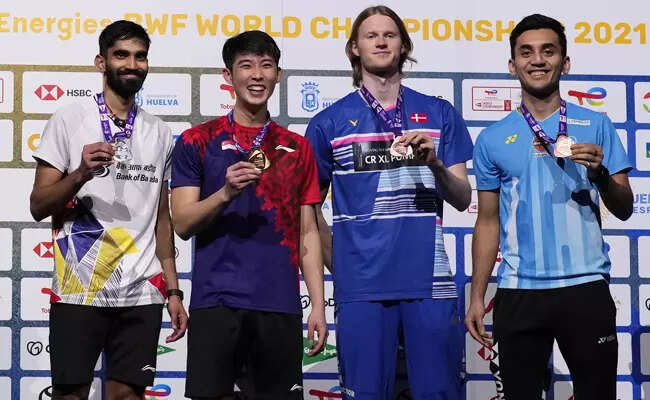 L-R: Srikanth, gold medalist Loh Kean Yew, bronze medalist Antonsen and Lakshya Sen. (AP Photo)
THE SEASON THAT WAS
Starting with the Sudirman Cup in Finland, Srikanth took time to hit the straps on the Tour, after a six-month gap since his quarterfinal finish at the Orleans Masters in France this March.
At the Thomas & Uber Cup and the Denmark Open that happened in consecutive weeks, Srikanth ran into Viktor Axelsen and Kento Momota, both of whom stopped his progress at the respective events.
For three tournaments in a row, Srikanth didn't end up getting a rank of note. But the self-doubts in his mind were slowly clearing up, for only he knew that his court-play was improving even if it wasn't showing up in the results.
"I am very happy that I could play a number of tournaments and matches. Even before going into the Sudirman Cup, I always said that I want more match practice to get better. I slowly started to see the difference," said Srikanth, analyzing his run across nine tournaments in the last three months.
All the hardwork seems to pay off! 🥈 Reaching the finals of the World Championship was massively fulfilling, and I… https://t.co/yMNtKdbFNr

— Kidambi Srikanth (@srikidambi) 1639989554000
"I was (getting) much better with every subsequent tournament and I slowly started improving. I think the Hylo Open was my first semifinal (of the season), and I played well. From thereon, the following week, I played another semifinal (Indonesia Masters). So it was a slow progress but I am happy that I peaked at the right time.
At the World Tour Finals, just ahead of the World Championships, Srikanth couldn't progress past the Group stage. But that had little effect on his run at the year-ending tournament in Huelva.
He dropped just one game on his way to entering the semis, which was an all-Indian affair against Sen. This made it the first occasion that two Indian men won a World Championships medal in the same edition.
The one-hour-nine-minute semifinal tested Srikanth and more importantly put up an exhibition of Indian badminton on the world stage. Sen won the first game 21-17, but Srikanth stormed back into the contest to win the next game 21-14 and then clinched the match by winning the decider 21-17.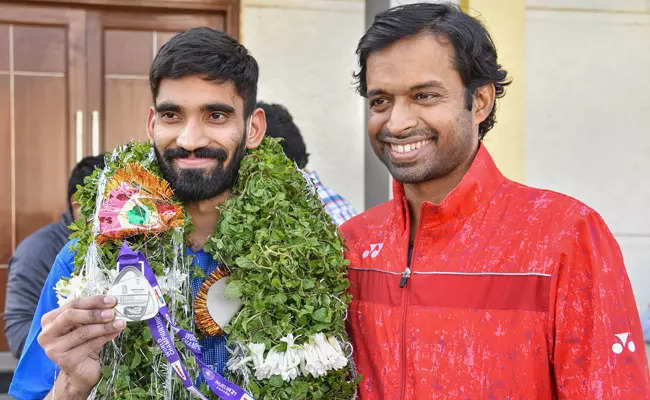 Kidambi Srikanth with coach P Gopichand. (PTI Photo)
A YEAR AGO
When earlier this year the BWF announced changes to qualification scenarios for the rescheduled Tokyo Olympics in the wake of the Covid-19 pandemic, Srikanth needed a few points despite being ranked in the normal qualification bracket of top 16 in the BWF Rankings.
He was No. 14 at that stage and the best-ranked Indian shuttler among the men. He was slowly making his way back out of a long injury-ridden phase, following his most successful year on the circuit in 2017 when he won four Super Series titles in a calendar year.
It also made him the world No. 1, a reign that lasted a week.
But he couldn't make the cut for the Tokyo Olympics.
Srikanth refuses to accept that his Tokyo Olympics miss was because of injuries or poor form.
Congratulations to @srikidambi for winning a historic Silver Medal. This win will inspire several sportspersons and… https://t.co/1iZTMZpg3l

— Narendra Modi (@narendramodi) 1639983145000
"In 2021, the whole thing about not qualifying for the Olympics wasn't because I couldn't perform due to injury or whatever reasons. It happened because the tournaments got canceled," said Srikanth responding to the question.
"It's not because I was not playing well. Even then I was ranked 14th and you have to be in the top 16 to qualify. I was the highest-ranked (male) player from India even then. But the BWF said (there will be) a different set of rankings for the Olympic qualification. Then they canceled 7 or 8 tournaments before the Olympics.
"So I couldn't get the points I required to qualify…These are things you don't have any control on. The whole Covid thing is something that as an individual you can't do anything about," the 28-year-old who has broken back into the top 10 in the world rankings again told TimesofIndia.com.
At the senior National Championships in 2017, Srikanth suffered a knee injury. That and ankle issues kept hurting his attempts to return to court, resulting in a dip in his performance.
But Srikanth reiterated that the lack of opportunities hurt him more than anything else.
"Injuries are part of every sports person's career and it's important how you get back. For me, what happened was that I was able to come back really quick. I was feeling okay. I was fully fit. I was able to play well by January of 2020. But I could only play two or three tournaments, then this Covid happened. Then everything got canceled and the Olympics got postponed to 2021.
"There was disappointment that I didn't qualify (for the Olympics) but there was no depression or any such thoughts. I was okay, completely fine. I knew there would be a lot more tournaments after the Olympics."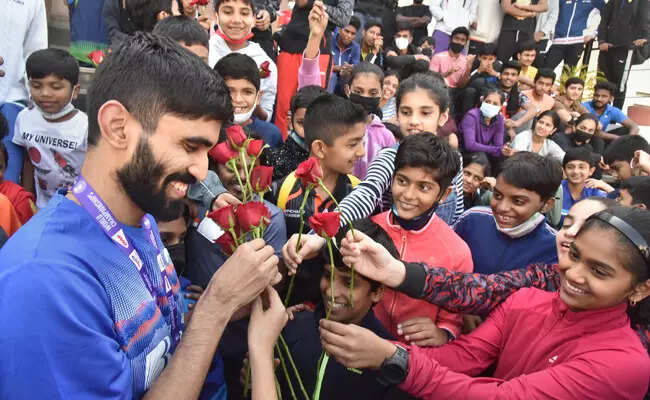 Srikanth was greeted by budding players at the Pullela Gopichand Badminton Academy. (PTI Photo)
'I AM NOT THE ONLY ONE WHO DOES IT'
De-stressing has gained importance in bubble life, especially when you hop and travel from one bio-bubble to another, isolated in hotel rooms for months on end.
A report following Srikanth's win mentioned about him logging onto gaming platforms to spend time with his long-time friends to take his mind off badminton while enjoying friendly banter.
Srikanth says it's nothing unusual from what other sports persons do in their traveling and playing life, where they get little time with their close ones.
"I have been asked this question a number of times…I am in touch with my friends and I spend some time (gaming) whenever I have time. That's a usual thing, nothing different that only I do…It's something common. I don't think I am the only one who does it (gaming). Like I travel a lot, so I try to talk to people I know from a very long time. It (bubble life) is always a little tough," he said.
Moment to savour! ❤️@srikidambi became 1st 🇮🇳 Male shuttler to win 🥈at #WorldChampionships while @lakshya_sen bec… https://t.co/LfKeDxMUc4

— BAI Media (@BAI_Media) 1639928934000
'NO LONG-TERM GOALS'
Srikanth doesn't want to look too far ahead, especially in the current pandemic times where life is so fickle and circumstances so dynamic.
While he savors the silver medal at home before hitting the road again next year, he hasn't set himself any goal, but to qualify for the Paris 2024 Olympics.
"At the moment, I am only thinking about the next few tournaments that I am playing in the next three months. That's the goal for me. I haven't really set any long-term goal, but the (2024) Olympics will always be there," the Padma Shri awardee further told TimesofIndia.com.
For 12 years now, he has been training with Pullela Gopichand and his academy in Hyderabad, where he was welcomed by the national badminton coach, who called his medal a "long awaited" one.
"I am very happy for the way it has been for me for the last 12 years, I think, at the academy. (Gopichand) Sir has been very supportive. Every time I need something, I definitely go to him and he has always helped. That way I am very happy that I have a coach like him," said Srikanth.
For the immediate future, Srikanth has his sights set on just one thing.
"I just want to train well and win more tournaments."