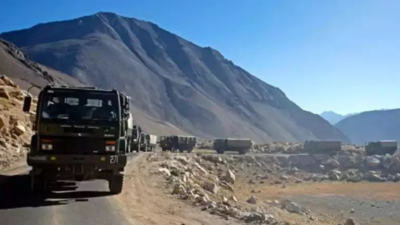 Significant investments have been made in recent years to improve infrastructure along the border with China
NEW DELHI: Noting that the possibility of any kind of conflict cannot be ruled out in the current uncertain environment, defence minister Rajnath Singh stressed the need to further develop border infrastructure while dedicating 24 new bridges and three roads to the nation on Tuesday.
"We faced our adversary in the northern sector recently with grit and determination. It could not have been possible without proper infrastructural development," said Singh, referring to the ongoing military confrontation with China in eastern Ladakh since May last year.
"In today's uncertain environment, the possibility of any kind of conflict cannot be ruled out. Strong infrastructure in border areas is essential as it strengthens strategic capabilities. As we move forward in the direction of strengthening our border infrastructure, we have to bolster our surveillance systems as well," he said at the e-inauguration ceremony.
Built by the Border Roads Organization (BRO), the new bridges include nine in Jammu & Kashmir, five each in Ladakh and Himachal Pradesh, three in Uttarakhand, and one each in Sikkim and Arunachal Pradesh.
Of the roads, two are in Ladakh and one is in West Bengal. The significant ones include the country's first indigenous 140-feet double-lane modular bridge built at an altitude of of 11,000 feet at Flag Hill-Dokala in Sikkim and the Chisumle-Demchok road at the Umling La Pass at over 19,000 feet in eastern Ladakh. The road at the Umling La Pass will enable faster movement of armed forces, boost tourism and ensure socio-economic development of the region.
"Roads in border areas cater to the strategic needs and ensure equal participation of remote areas in the development of the nation," said Singh, commending the BRO for its perseverance in achieving the feat despite the challenges of sub-zero temperatures.
FacebookTwitterLinkedinEMail