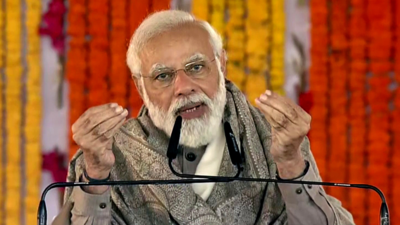 PM Modi in Kanpur on Tuesday (ANI)
NEW DELHI: The government may have chosen to refer the bill raising the marriageable age of girls from 18 to 21 years to a standing committee of Parliament recently, but BJP is raising the pitch over the legislation and is seeking to make it one of the key poll issues in the coming state assembly polls, accusing opposition parties of thwarting measures to empower women.
PM Narendra Modi has been talking about the legislation in his rallies, invariably alleging that the opposition was hell-bent on thwarting the government and obliquely referring to a sub-text of minority politics without naming leaders like AIMIM's Asaduddin Owaisi and others.
Recently a delegation of women BJP leaders from poll-bound Uttarakhand had called on party president JP Nadda to extend their "gratitude" for the legislation. While the opposition had demanded scrutiny by a parliamentary committee, the government too was not averse to such a path.
"The parties which have made corruption as their economic policy, who show obeisance to the mafia, they can't do development of UP. That is the reason they have problems with every decision meant for empowerment of the society," Modi said in Kanpur on Tuesday and added, "Be it stringent law against triple talaq or the bill to equalise the marriageable age of boys and girls, they always oppose them." The bill seeks to raise the age of legal marriage for women from 18 to 21 and will apply to all communities.
The PM's reference of the bill in Kanpur also holds significance for the fact that several Samajwadi Party MPs were vocal against it and dubbed it as interference in the Muslim personal law. Opposing the bill, SP MP ST Hasan, recently said there was nothing wrong in a girl getting married even at the age of 16.
FacebookTwitterLinkedinEMail